Location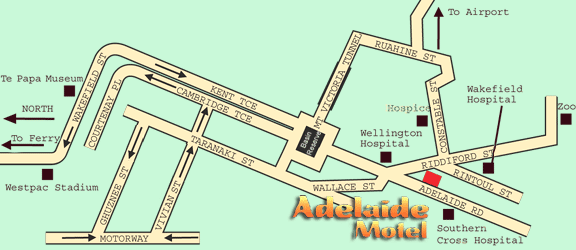 Easy walking distance to Wellington Hospital and Southern Cross Hospital, Medical School, Te Whaea National Dance & Drama Centre and South West Stadium.
Only a few minutes by car to Wakefield Hospital, Mary Potter Hospice, Massey University, Wellington Zoo, Government House.
Within 10 minutes drive to Wellington Airport, Interisland Ferry, Westpac Stadium, Te Papa Museum, Rail Terminal.
ADELAIDE Motel
209-211 Adelaide Rd, Newtown, Wellington
Phone: +64 4 389 8138
Email: adelaide.motel@xtra.co.nz
Web: www.adelaidemotel.co.nz